About Me
I'm 26 years old, was born in Berkeley, California, and attended Berkeley High School. I lived in the Boston area for several years after graduation; as of 2013, however, I can be found in Portland, Maine as a Physician Assistant student at the University of New England. I have an older sister living in LA, and both of my parents are still back in Berkeley. I am half Asian (father's side) and half white in descent, with no particular ethnic identification except American. I'm about 6 feet tall, 185 pounds, and moderately built. I have small ears.
I attended the University of California at Santa Cruz and graduated in June of 2009 with a bachelor's in Philosophy, moving shortly after to Massachusetts. Over my junior year ('07–'08), I studied abroad at Leiden University in the Netherlands. Until May 2013 I made my living working as an EMT on an ambulance in the Boston area.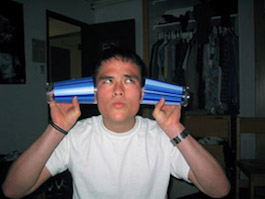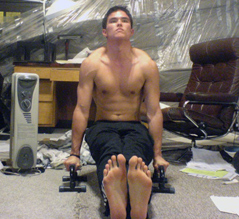 I am, in brief: goofy, intelligent, analytical, absent-minded, introspective, restless, optimistic, prone to overthinking, practical, curious, imaginative, closed with emotions, and undoubtedly more.
My interests are all over the map. Some highlights:
On the dirt
From 2010 through 2013, I worked as an EMT-B for local ambulance providers in Greater Boston, providing emergent and non-emergent care for all the folks who stubbed their toe or needed to visit the doctor. I did similar work back in California during my senior year, working part-time in Monterey County, and jumped around with a few different companies in Boston after graduation, taking a hiatus from the field when I returned to school here in Maine. I have focused interests in cardiology, particularly ECG interpretation, as well as continuity of care (particularly for cardiac arrest and STEMI systems), patient advocacy, BLS fundamentals including clinical assessment, and the general application of evidence-based care. I teach CPR and other continuing education subjects, and I maintain and write an educational website for EMS professionals at EMSBasics.com, which (aside from general educational topics) has grown to include a virtual city called Scenarioville and a Digital Research Library. I also do some writing for the trade journals on various topics and am involved with coordinating and supporting the HEARTSafe Communities program.
I've been involved in some form of martial arts for a good part of my life. In elementary school, I studied Isshinryu karate for a short while, not learning a great deal; I dabbled in a few other styles in my adolescence; eventually got involved in Jeet Kune Do, escrima, and pentjak silat (a personal style of my instructor Neal Bryant, but heavily based on mande muda, via Guy Chase); and for most of college was engaged with a Renaissance Faire guild (the Twilight Knights) working on Western sword styles. My interest in the martial arts eventually abated somewhat due to my gradual realization that a great deal of the field is nonsense, fraud, and myth, especially when the purpose is practical self-defense. Nowadays I try to surround myself only with those who know what they're talking about, such as the Animal list group.
Exercise-wise, in late '07 I got involved with the CrossFit training system, which sent me down the odd but interesting road towards athleticism. After several years I developed some quibbles with the CrossFit methodology and moved on to other focuses (including a brief period of gymnastics while in college); nowadays my training consists mostly of straightforward strength training in the powerlifting tradition. Some of the projects I developed while involved with the CrossFit community are available here. As for myself, here's a somewhat-outdated log of some PRs and videos. In the past, I've also rowed, played tennis, and fenced.
I briefly played around homebrewing beer with the help of my housemates in college. The results were always happily consumed.
I've been writing for a long time, mostly self-taught; nowadays I mostly just write non-fiction for professional purposes or for education.
During college, in a typical example of bizarre practices I picked up through self-education and internet resources, I developed an interest in locksmithing and lockout work, and eventually founded and ran a lockout service in the Santa Cruz area called Rapid Entry Locksmiths. It shut down when I moved to the Netherlands and never got going again.
I've always read a lot, not so much in high school, more again in college, and nowadays whenever I can find the time. When I was a kid my interests were mainly science fiction and some military fiction, but I suspect that may be largely because that's all we had around the house (mostly hand-me-downs from my father). Nowadays I'm into some science fiction and fantasy, some mainstream stuff, some classic literature, and a lot of poetry (some favorites are Blake, Cummings, and Eliot). A few favorite-books-of-all-time are Once a Runner; People Care; and Cyrano de Bergerac, the Brian Hooker translation.
On the screen
Since the early '90s I've been kicking around the internet, first on the aging America Online, then expanding into more respectable regions of the web.
I have at various times been big into blogs, webcomics, assorted news sites, gaming, and more. The most significant stuff I've done, at least in terms of longevity, has been in Halo, in various self-defense/martial arts circles, in the strength and conditioning world, in the online EMS community, and in web design. In other words, in the areas I was most interested in, which makes sense.
I am not really a hardware person, though I rub shoulders with some; at this point, all I really care about is that my computer do what I need—internet, email, chat, writing, media—and not give me too much grief. I've always been a Mac user, and nowadays I make my home on a dual 2.3 Ghz MacBook Pro.
For any other questions, feel free to drop me a line!